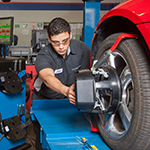 The General Motors Automotive Service Educational program (GM ASEP) is a two-year associate degree program.  It incorporates the most advanced automotive technical training with a strong academic foundation.  The curriculum is certified by the National Automotive Technicians Education foundation (NATEF) and General Motors Corporation.
The Basic Police Academy Certificate of Achievement program offers curriculum to prepare students with the knowledge and skills necessary to complete a law enforcement field training program certified by the California commission on Peace Officer Standards and Training (POST)

State Center Community College District (SCCCD) offers various study abroad opportunities through the Fresno City College, Reedley College, Clovis Community College and North Center campuses.  These programs are developed, coordinated, and led by faculty at the campuses, and cover various areas of study and different locations throughout the world.