Fresno City College remains closed to the public, however services and instruction areas are open and available online and by telephone. We are committed to keeping our students and staff safe by providing you with the most up to date coronavirus information. The best way to prevent illness is to avoid being exposed to the virus. If you must come to campus for any reason, please adhere to the guidelines outlined by the office/department which you will be visiting which include but are not limited to the following safety precautions: 

All visitors must 

w

ear

 a face mask/cover

 

Practice social distancing at 

least

 6 ft apart 

 

Cover coughs and sneezes

 

Wash hands often

 or use 

hand sanitizer (60% alcohol)

 

Clean and 

disinfect

 surfaces

 
You can visit our COVID-19 Information webpage for additional information and resources. 

We are committed to helping you be successful in your classes and learning how to use Canvas, Zoom and other online tools. Here is some information and some resources to help you get started!
Synchronous vs Asynchronous Class
While most classes will be online, some will meet online at specific days and times and some will be on your own as defined below. Be sure to also check the "Important Class Notes" in WebAdvisor for full details regarding lecture times or instructor comments.
Synchronous - Meet online regularly
The course "Meeting Information" or "Important Class Notes" in WebAdvisor will list meeting days and times.

Online learning includes video conferencing, Zoom meetings, teleconferencing, live chatting, and live streaming lectures.
Asynchronous - On your own time
The time will be "TBD" or "ARR"; this means you will work on your own schedule.

The course "Meeting Information" or "Important Class Notes" in WebAdvisor will list "Lec Internet Days to be Announced, Times to be announced Web Based Instruction".
Online learning includes self-guided lesson modules, streaming video content, virtual libraries, posted lecture notes, exchange across discussion boards, or social media platforms.
My Portal 
Students can access their student email, Canvas, WebAdvisor, and additional resources by logging into My Portal located at the top right of the Fresno City College website. If you need assistance with username and password information to log in, watch this short My Portal tutorial. 
Canvas (See Step 2: Live Events and Workshops for Canvas Tutorial workshop date and time)
Canvas is your virtual classroom and should be accessed daily to keep up with your courses. This is where instructors will make course announcements, post assigned readings and assignments, and schedule tests/quizzes for you to take. Canvas can be accessed through My Portal.  
*NOTE: Instructors may begin posting content in your courses as early as Monday, January 4, 2021. Be sure to access your courses in Canvas on the first day of the semester, which is Monday, January 11, 2021. 
Zoom 
Zoom is an additional virtual tool that some instructors may use to communicate with students. Zoom allows you to have virtual face to face interaction (similar to FaceTime) with your instructors and classmates as well as office hours. To familiarize yourself with Zoom, check out this Zoom Support- How to Join a Meeting tutorial. 
All our student support services are available online and ready to assist you. Review all the resources below for information on how to checkout technology to assist you in successfully completing your online courses as well as accessing support services such as tutoring and library resources. In addition, our Special Programs serve as extra support to students who qualify to participate in their programs.  
Library Services 
Phone: 559.442.8204  
Students can check out more than just books at the Library; technology like laptops, iPads, calculators, and hotspots are all available to check out too! Please note that a photo ID and a signed "User Agreement Form" will be required for the checkout of these devices (limited supplies available). In addition to checking out materials, the library also has a textbook reserve, online research databases, one-on-one chats with a librarian for research assistance and more. You can visit the Library's webpage for the most up to date information on what services are available.  
Tutoring Services 
Phone: 559.442.8209
FCC Offers free tutoring services to all students. Several tutoring options we have available include ETC, Writing and Reading Center, PASS, Math Support Center and more. Make sure to check out the Tutoring Options webpage for contact information and availability of each program. 
Special Programs 
Fresno City College has several special programs to assist students in their academic success. A few services provided by these special programs include individualized counseling, university field trips, tutoring services, financial assistance, and more! Descriptions of each special program's eligibility requirements and what services they offer is available on the Programs to Help You Succeed webpage. 
Fresno City College is currently providing services online and by telephone as the campus is closed due to COVID-19. Below you will see a list of common campus services students utilize with their contact information and links to their webpages for additional resources. You can watch this Student Services video for a brief overview of the services below. Keep in mind the student services referenced in the video are available online and to check each services webpage for current hours of operation. 
Bookstore 
Email: 2172mgr@follett.com   
Phone: 559.443.8548  
While the campus is closed, the Bookstore has limited hours and encourages students to order their textbooks online through the Bookstore webpage. Make sure to have your class schedule available to find what textbooks are needed for your courses. If you are visiting the Bookstore in person, masks or face-coverings are required and you must adhere to social distancing.   
Business Office  
Email: CBO@fresnocitycollege.edu   
Phone: 559.489.2234
Students can reach the Business Office by phone or email questions to the email address above to take care of your financial needs. They will respond within 24 hours during normal business days/hours. Payments should be made online through the Self-Service app, which is accessible 24/7, and can be accessed by logging into your Student Portal.  (Some financial aid repayments are not available for online payments.) Visit the Business Office webpage for more information.  
*NOTE: Due to the campus closure and online learning during the Spring 2021 semester, parking permits are not needed for the Spring 2021 semester.   
Career and Employment Center 
Email: martin.herb@fresnocitycollege.edu  
Phone: 559.442.8294
The Career and Employment Center assists students with career exploration, resume writing and job interviewing skills. They also have a job posting site called Jobspeaker on their web page. You can visit the Career and Employment Center webpage for more information and resources. 
Counseling 
Please visit the Counseling Options webpage for contact information. 
Counselors are serving students through virtual counseling appointments via Zoom. To schedule an appointment, you can visit the Counseling Options webpage and select your appointment option. Drop-in counseling may be available during the first weeks of the semester. 
Disabled Students Program & Services (DSP&S)   
Email: dsps@fresnocitycollege.edu   
Phone: 559.442.8237
Disabled Students Programs and Services (DSP&S) staff are committed to creating an accessible learning environment where individuals with documented disabilities have equal access to pursue their educational goals. They are dedicated to supporting students and collaborating with the campus community to remove barriers to educational access and embrace the college's values of equity and inclusion. You can visit the DSP&S webpage for staff email addresses and contact numbers.  
Dream Center 
Email: migrantsss@fresnocitycollege.edu 
Phone: 559.443.8570
Dream Center staff provide information and academic counseling to new and continuing undocumented students. You can visit the Dream Center webpage for more information and resources. 
Financial Aid Office  
Email: financialaidoffice@fresnocitycollege.edu  
Phone: 559.442.8245
Fax: 559.499.6024  
Students who need to submit financial aid documents are encouraged to do so as soon as possible. These documents can be submitted to the Financial Aid Office by mail, email or fax. Failure to complete your financial aid file may result in your funds being delayed.  
If you have any questions regarding financial aid, you can visit the Financial Aid Office webpage or contact them by phone or email.  
Health Services 
Email: healthservices@fresnocitycollege.edu  
Phone: 559.442.8268
The Health Services Office is open Monday and Wednesday by appointent only. Students may schedule an appointment by calling the Health Services mainline or by email and leave a message with their name, student identification number, and phone number so one of our nurses can return the message. Health services available to currently enrolled students are funded by the student health fee and include:  
H

ealth education

 

S

creening tests

 

A

ssistance in obtaining medical care

TB clearances

Flu shots
You can visit the Health Services webpage for more information and resources. 
Psychological Services 
Email: psychservices@scccd.edu  
Phone: 559.443.8687
Psychological Services continues to offer free individual and group sessions to FCC students via phone or Zoom meetings. Remote services with FCC Psychological Services therapists are only available for currently enrolled students over the age of 18. You can visit the Psychological Services webpage for more information, resources, and hours of operation. 
Ram Pantry  
Email: Rampantry@fresnocitycollege.edu 
Phone: 559.443.8688
The Ram Pantry is a free food assistance program available to currently enrolled students. Fresno City is committed to combating food insecurities and hunger so you can concentrate on your studies and other activities. The Ram Pantry is located in the Student Center/Bookstore building and is currently providing a drive-up service during the summer. Visit the Ram Pantry webpage for updated hours and services. 
Student Activities 
Email: studentactivities@fresnocitycollege.edu  
Phone: 559.443.8688
The Student Activities office is your connection to campus life, student clubs, Associated Student Government and campus events. Student Activities is available via email, phone, and social media. You can follow them on IG, FB, Twitter and YouTube for event updates. Check out the Student Activities webpage for additional information.  
Veterans Resource Center 
Email: Veterans@fresnocitycollege.edu  
Phone: 559.442.8224
The Veterans Resource Center provides assistance to veterans and their dependents when applying for educational benefits. If you are a veteran, you can contact the VRC by phone and leave a message with your full name and FCC ID number and a staff member will follow up. You can visit the VRC webpage for more information and resources.

As you start your first semester online, we want to share some student success tips to help you stay on track.  
Important Deadlines 
Once the semester begins, it is easy to get sidetracked. Nevertheless, there a few things students should be aware of to help them stay on track. Add and drop dates, last day to receive a refund for tuition, applying for graduation, and other important deadline information can be found on the Important Information and Policy Changes webpage. 
Know Your Catalog 
The college catalog provides information about our college, degrees and certificates offered, GE requirements, and details about courses. Included in the catalog are academic expectations, school policies and student services offered. More information can be found on the Catalog webpage. 
Registration 
Students can search, register, add, waitlist, and drop classes by accessing WebAdvisor located in My Portal. If you are waitlisted for a class, we encourage you to email your instructor the week prior to when the class starts and try to receive an add code to register. You can drop a class you are registered for by clicking on the My Cart link under the New Student Links section in WebAdvisor. More information regarding registration can be found on the Registration Resources webpage.
Satisfactory Academic Progress (SAP) 
In order to remain eligible to receive financial aid, students must make Satisfactory Academic Progress. For more information on SAP and how it can affect your financial aid status, please visit the Satisfactory Academic Progress webpage. 
Ram Pathways
FCC has grouped all our majors into five pathways. Each pathway consists of a group of related programs of study based on similar core classes and career paths.  Pathways allow you first to determine an overall field of study, and then focus on a program or major to earn a certificate, associate degree, and/or prepare for transfer to a university. Find out more by visiting the Ram Pathways webpage or your specific pathway by using the links below.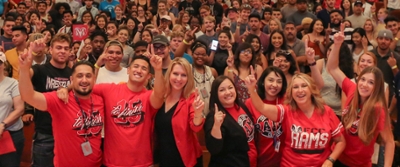 Thank you for taking the time to complete your Ram Ready presentation! Your next step is to complete some Canvas activities designed to help you navigate and familiarize yourself with the Canvas platform. Enter your Ram Ready Canvas course to complete the listed activities for a chance to be entered into a drawing. 
After completing your Ram Ready Canvas activities, check out the Live Events and Workshops schedule below!