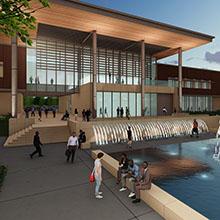 The West Fresno campus will sit on 39 acres and house a 110,000 square foot state-of-the-art academic and career technical satellite campus located at Church and Walnut avenues. The campus is expected to be completed in August 2022. The West Fresno Campus will provide much needed access to the community diverse educational opportunities.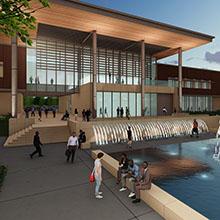 We are excited to share progress on the new West Fresno campus construction project via time-lapsed video! You can view the time-lapsed video by clicking on the provided button. (Disclaimer: This link is provided as a convenience and for informational purposes only. State Center Community College District bears no responsibility for the accuracy, accessibility, or content of the external site. Contact the external site for answers to questions regarding its content. If you require an accommodation for any of the content on this site, please contact Kiesha Oliver at 559.243.7182.)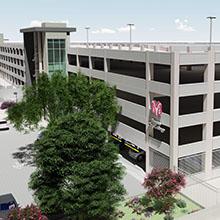 The long-awaited parking structure is on its way! For decades students, employees and the community have asked for a parking structure to help alleviate the parking situation at Fresno City College. Now, it is becoming a reality.

The new $88 million science building will feature modern labs across several science disciplines and will also house Design Science Middle College High School, tutorial spaces and flexible student study areas. Relocating the new building along Blackstone and Weldon Avenues will help alleviate some of the parking demand on campus and will serve as a new front door to the college. Construction will start in June 2021 with an anticipated opening in June 2023.

The $16.8 million Child Development Center will be a two-story facility and will offer an engaging environment that promotes both early childhood development as well as higher education in early childhood development. With over 24,500 square feet of space, it will more than triple the amount of space at the current center. The current facility built in 1985, consists of roughly 5,326 square footage in modular buildings.

The First Responders Center will be on approximately 40 acres at Willow and North avenues in Southeast Fresno. The Police and Fire Academies will share the campus. Site preparations and demolition on the existing structures that were on the property is now complete. The $46.1 million campus will house fire training structures, a scenario village for police training and simulation spaces.