Commencement Ceremony
Share the joy of graduation with your family at the Commencement Ceremony. Wear your cap and gown with pride. You earned this day!
Important Dates
Graduation Application Deadline: April 1, 2020
Email Invitations and Instructions will go to your Student Email in April, 2020. The RSVP period will begin when those emails go out.
RSVP for Ceremony: before May 20, 2020
Commencement Rehearsal: May 21, 2020
Commencement Ceremony: May 22, 2020
Requirement to attend Commencement
Completed and qualify for Associates Degree during the year prior to the ceremony.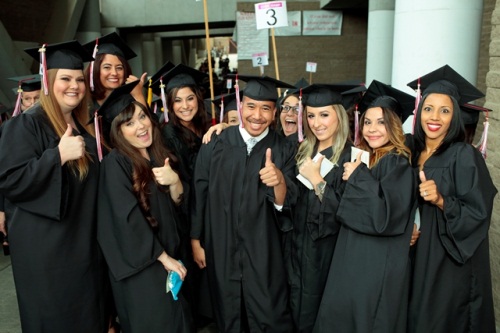 Program Details
Graduation announcements, caps, gowns, and tassels may be purchased at the FCC Bookstore.
It is strongly recommended that graduates attend rehearsal, Thursday, May 21st, from 4:00 pm to 5:00 pm. Seat assignments are done at this time, so if you are unable to attend rehearsal make sure to arrive at the Commencement Ceremony Friday night no later than 5:15 pm to be assigned a seat.
Once seat assignments are made, no changes will be made the night of the ceremony.
All Graduates participating in the ceremony should arrive by 5:15 pm. Enter Selland Arena using the south side ramp near Ventura Street. Ceremony begins promptly at 6:30 pm. Directions to Selland Arena.
Please come dressed in cap and gown and prepared to march.
Leave any personal items (backpacks, purses, etc.) in your car or with an audience member.
Only graduates and staff are allowed backstage and on the arena floor.
Parking is available for a fee of $ 10.00 per car. Carpooling is highly encouraged as construction around the arena may affect parking availability.
If you have a physical limitation you feel may make it difficult to participate, please contact the Disabled Students Programs and Services Office at 559.442.8237 for assistance, no later than Monday, May 18, 2020.
Photographs will be taken by a contracted professional photographer of each graduate as they receive their diploma on stage and will be available for purchase after the event.
If, for any reason, you do not want your name to appear in the printed Commencement program, notify personnel at the Admissions & Records Counter by April 24, 2020.
Important Information regarding commencement ceremony will be included with your RSVP acknowledgment.