Office of Educational Services & Institutional Effectiveness
The Office of Educational Services and Institutional Effectiveness provides direction and guidance on institutional planning, institutional research, grants and external funding, and institutional projects that foster student success and achievement. The office ensures equity and institutional data are the impetus for dialogue around effectiveness and change of our institution.
Departments and programs within the division strive to improve the educational landscape through restructuring instructional pathways, aligning students support services, expanding dual enrollment opportunities, aligning program and institutional resources, and developing new strategies and wraparound services to support specific student populations like Rising Scholars, foster youth, and homeless students.
Hours
Monday - Friday
7:30 am - 4:30 pm excluding Campus Holidays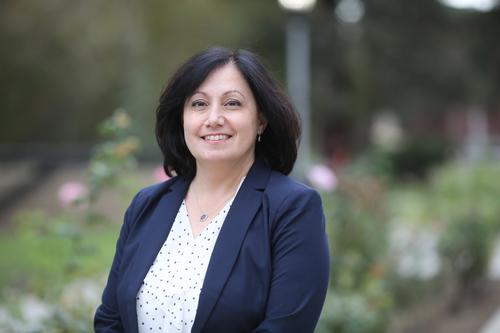 Ghada Al-Masri, Ph.D.

Vice President
Office of Educational Services & Institutional Effectiveness
Dr. Al-Masri has over twenty years of experience in higher education, serving as professor of Global Studies at the University of Wisconsin. She joined the California Community College system as an Equity and Student Success research analyst in Institutional Planning and later moved to administrative leadership in her role as Dean of Social Sciences at Ohlone College. She has also served over the college's eCampus and lead Equity and Guided Pathways programming to support student and institutional success. She is a passionate leader in advancing student success through equity and social justice and continues in her life-long commitment to create opportunities to serve students, faculty, and staff in their educational and professional goals. As an undocumented child immigrant to the U.S., she grew up in fear after crossing the Mexico-U.S. border with her parents and siblings. Her dream of education as an essential path for freedom and justice was instilled in her by her mother as a path to the American Dream. As a first-generation student, she was eventually able to study Biology and Anthropology at the University of California, Irvine, and later earned her Master's Degree in Anthropology and her Ph.D. in Geography from University of California, Davis.
Office of Educational Services & Institutional Effectiveness Team
| Name | Position | Extension |
| --- | --- | --- |
| Becky Xiong | Executive Assistant | 8183 |
| Susi Nitzel | Professional Development Coordinator | 2214 |
Departments