Outcomes & Assessment (SLO)
Welcome to our Outcomes & Assessment Website! The resources provided here will help faculty, staff, students, and the public understand assessment practices at FCC.
What are Outcomes?
Outcomes are the overarching statements that identify what a student should know or be able to do as a result of taking a course, completing a program, or encountering a service unit. Outcomes differ from objectives in that objective statements are more narrow and identify meaningful skills or knowledge that support a student's achievement of the broader learning expectation - the outcome.
What are FCC's Outcomes?
Fresno City College has Institutional Student Learning Outcomes (ISLOs) which are statements that identify what a student should know or be able to do upon completion of their time at FCC.
Fresno City College Institutional Student Learning Outcomes
Communication: Students will demonstrate effective communication and comprehension skills.
Comprehend, analyze, and respond appropriately to oral, written, and visual information.
Effectively communicate information through speaking, writing, and other appropriate modes of expression.
Critical Thinking and Information Competency: Students will demonstrate critical thinking skills in problem solving across disciplines and in daily life.
Identify vital questions, problems, or issues and evaluate the reasonableness of a solution.
Analyze, assess, and evaluate the validity of an argument.
Analyze multiple representations of quantitative information, including graphic, formulaic, numeric, and verbal.
Select and evaluate the accuracy, credibility, and relevance of information sources.
Community and Global Awareness and Responsibility: Students will demonstrate knowledge of social, cultural, environmental, and aesthetic perspectives.
Examine individual and group responsibilities in society.
Participate in active citizenship.
Personal, Academic, and Career Development: Students will assess their own skills and abilities to develop personal, educational, and career goals; work independently and in group settings; and identify lifestyle choices that promote self-reliance, financial literacy, and physical, mental, and social health.
Assume personal responsibility for identifying academic and psychological-social needs, determining resources, and accessing appropriate services.
Evaluate progress towards achieving personal goals, academic goals, career goals, and career resilience.
Discipline faculty develop course and degree, or certificate, student learning outcomes that contribute to the ISLOs at Fresno City College for all courses, degrees, and certificates the college offers. These outcomes are identified on the course outlines of record and degrees/certificates in CurricuNet. Similarly, faculty and staff develop service units outcomes for all service units of the college that aid in student achievement of the ISLOs. These are identified on the unit Program Review.
What is Assessment?
Assessment is the process of collection, analysis, and discussion of data on student attainment of learning outcomes. Assessment is intended to occur over a period of time to allow for a substantive amount of data collection from which faculty and staff can draw conclusions about student learning.
What is Assessment at FCC?
To promote a culture of inquiry and self-reflection employees at Fresno City College engage in an assessment process that is a central to planning efforts at the college. Faculty and staff gather assessment data over a period of four years, then use their analysis of that data to inform their program review. For instructional areas, once program review is complete faculty make changes to curriculum, in curriculum review; those changes are initiated by the reflection that has just occurred in program review. Non-instructional areas identify appropriate changes to service unit outcomes based on their goals over the next five years. In both areas, instructional and non-instructional, the process of collection, analysis, and discussion of data begins again.
What are Results of Assessment at FCC?
Faculty and staff use the results of assessment, along with other indicators, to maintain the quality and effectiveness of education that students receive at Fresno City College. The process of outcomes assessment might result in curricular changes, pedagogical changes, or a recommendation of changes to the Strategic Planning Council.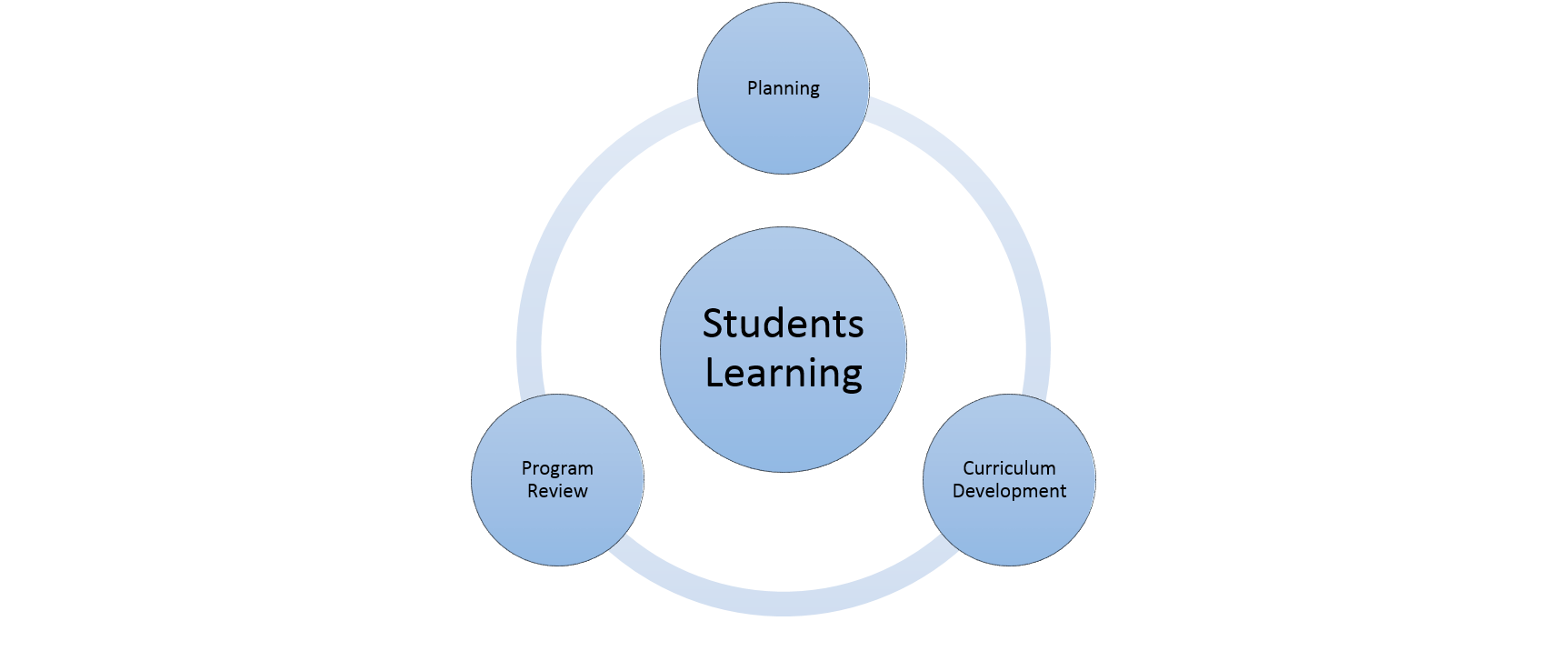 The Outcomes Assessment Committee at FCC
All college employees are involved in Outcomes Assessment. The procedures and guidelines are developed by the Outcomes Assessment Committee (OAC) an advisory group to the Strategic Planning Council (SPC). Members of the OAC consist of instructional, non-instructional, and administrative employees of the college who serve as a resource on outcomes to faculty and staff engaging in the assessment process.
The OAC also is responsible for providing timely feedback to units during their program review process, designing assessments for general education student learning outcomes, reflecting and making recommendations based on those assessments, and maintaining the process of assessment at the college.
For more information or if you need assistance please contact SLO Coordinator:
Enrique Jauregui #442-4600 ext. 8311
enrique.jauregui@fresnocitycollege.edu