Registration Details

Before You Can Register
Once you have followed the Matriculation Process (formal process of becoming a student), you should have your Student Education Plan (SEP), or otherwise know which classes you need to meet your goals. You are then ready to prepare for enrollment in classes.
You will not be permitted to register if a hold has been levied against your registration. See instructions on how to Identify and Clear any Holds.
Register Online
Use your SEP to determine which classes you need. Remember to estimate your time. I unit equals 3 hours of homework per week.
Log in to WebAdvisor (through MyPortal) to Search and Register online for each class. 
Register in person at the Admissions and Records Office
If you are restricted to a limited number of units due to a Counseling Hold or if you have a Pre-requisite Override from an instructor you will need to register in person with your signed approval or documentation to the Admissions & Records Office. If your work hours preclude you bringing it yourself, you may designate a one time authorized substitute by filling out the front side of the Student Registration Worksheet. You must sign and date it.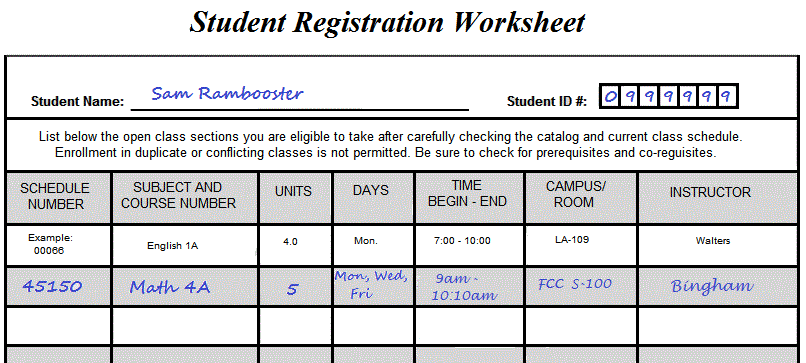 If your authorized substitute makes an error on your registration, you must understand that the college may not be able to correct it. Any resulting changes are your responsibility. We recommend that you do your own registration whenever possible.
Pass/No Pass
Students may opt to receive a Pass/No Pass designation instead of a standard letter grade (A,B,C,D,F).  
A maximum of 15 units may be earned on a Pass/No Pass basis in degree-applicable or transferable courses.
Students planning to transfer to another college or university should contact that institution regarding their policy on accepting Pass/No Pass grades before selecting this option as the grading cannot be changed once it is issued.
Students may submit a Pass/No Pass request no later than the end of the fifth week of a full-term course or within the first 30 percent of a short-term course. Students who have elected the Pass/No Pass grading option may reverse this decision only within these same deadlines.
For a full term (18-week) class the 30% mark is by the end of the final class meeting during the 5th week of class.
For all short-term classes the date will vary by class based on the length of the class. This includes all Summer sessions.
You can find more information on the Pass/No Pass grading option in the Fresno City College Catalog or by calling the Admissions and Records office.
Pay Fees
Cost
All classes are only $46 per unit for California residents!
To view your fee balance, log onto WebAdvisor (through MyPortal). View/Pay on My Account is under Financial Information or Make a Payment.
Know the Payment Due Date. This can also be found on WebAdvisor under Financial Information.
It is your responsibility to verify that the class fees have been paid prior to the Payment Due Date or you may be dropped from their classes.
Pay fees on WebAdvisor or in person at the Business Office.
Summary of Student Fees details the required fees and includes an estimate for books and supplies.
Prerequisites & Co-requisites
Prerequisites are classes that you must have passed with a grade of "C" or better prior to taking the class for which it is a prerequisite. Co-requisites are classes that must be taken during the same semester as the class for which it is a co-requisite.
Ensure all prerequisites are met prior to registration and that you qualify for and have room in your schedule to take any required co-requisites. Check for course descriptions and prerequisite/co-requisite information.
Generally, if a prerequisite has been satisfied at a college outside of the State Center Community College District (SCCCD), you will need to forward your official transcripts to:
Fresno City College
Attn: Records
1101 E. University Avenue
Fresno, CA 93741
However, if you are not intending to earn a degree or certificate from an SCCCD campus, and you have satisfied a prerequisite at a college outside of SCCCD, take your unofficial transcripts to the Counseling Department for review. In either case, you will need to have Counseling enter a prerequisite override for the course or courses.
Review the class schedule to find the Subject, Course Number, and Section Number of the class for which you wish to register.
Example Registration Planning
Example of Search/Register in WebAdvisor

A student registering for Contemporary Health being held on Monday, Wednesday and Friday at 10:00 a.m. on the FCC Campus in room HS-150 would note down the following information:
Subject: Health
Course: 1
Section: 29385
Location: Fresno City College Health Sciences Room 150
Times: Monday, Wednesday, Friday 10:00 am - 10:50 am
If you are registering for multiple classes, you may wish to use the Trial Schedule Worksheet to plan out your schedule so that you can see where classes will fit in without conflicting.